Picnic at The Proms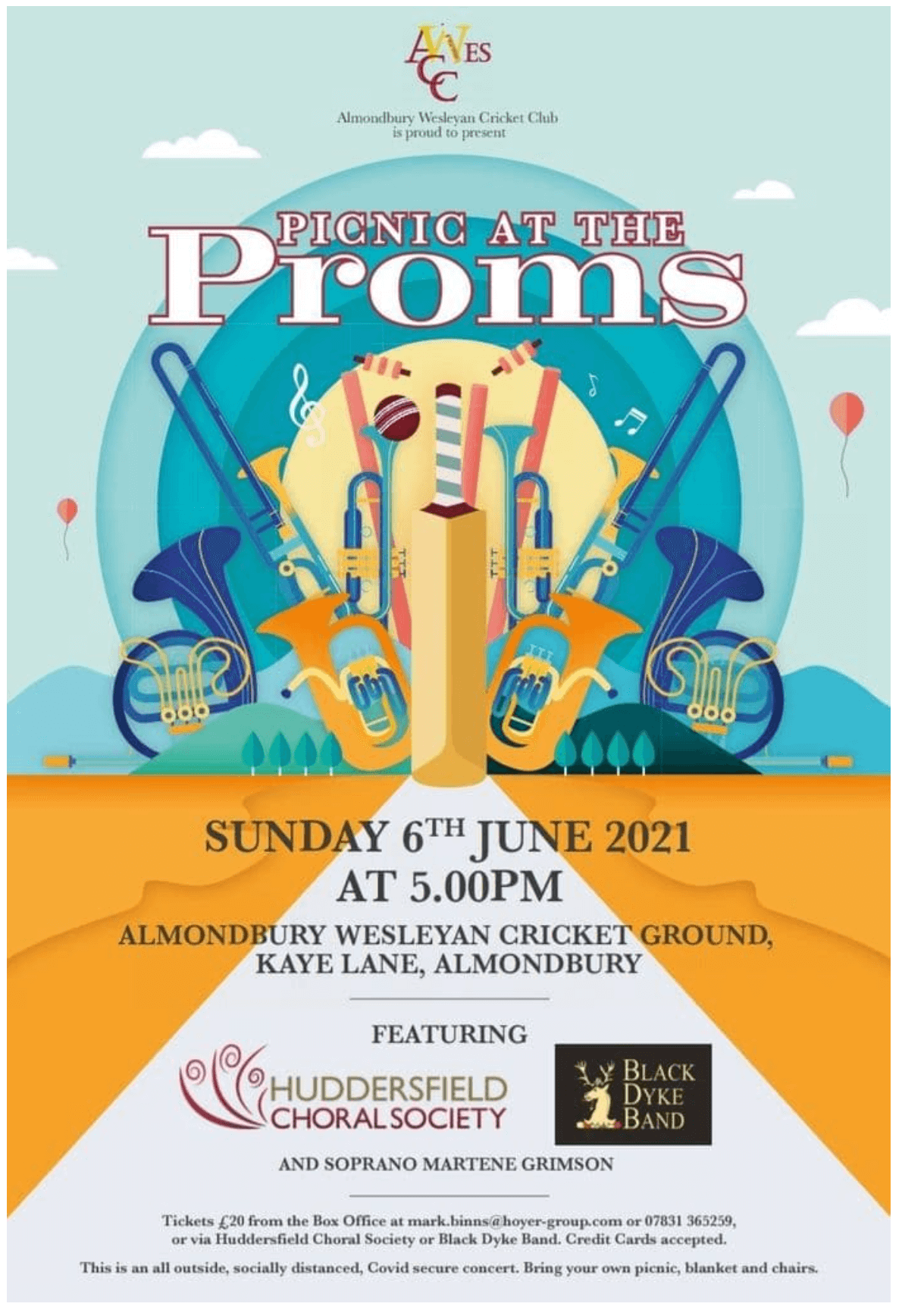 Terms & Conditions regarding sale of tickets:
This concert, promoted by Mark Binns and Almondbury Wesleyan Cricket Club, has been granted an event license permission and is taking place subject to specific Government coronavirus restrictions and adaptions which must be strictly followed by all persons in the concert grounds. You will receive information regarding up-to-date Venue Rules on entrance. You must bring a face covering with you for use as required.
The prevailing Concert Covid Regulations and Venue Rules form part of these Terms & Conditions. They will be issued to you with your tickets and updated on entrance into the concert grounds.
If the event goes ahead as advertised even with Government imposed restrictions and adaptions no refunds will be offered.
If the event goes ahead as advertised but Government restrictions limit the size of the audience then entrance will be determined based on tickets sold first. Ticket holders who, for this reason, are denied entrance to the event will be offered a refund.
If, due to either severe weather or coronavirus restrictions, the concert is re-scheduled and takes place on an alternative date and/or time at any point in 2021 no refunds will be offered. The reserve date for this concert event is Sunday 4th July.
If due to either severe weather or coronavirus restrictions the concert cannot take place and is cancelled a full refund will be offered.
Being prevented by Government restrictions from being able to travel to the concert will not entitle you to a refund.
Tickets may only be purchased through the official channels of AWCC, HCS or BDB, and must not be bought, sold, distributed or resold without lawful authority.
AWCC reserves the right to change the concert programme where reasonably necessary.
Seats are not provided so please bring your own picnic chair and blanket
Reasonable amounts of food and alcohol may be brought into the concert grounds. Alcohol is limited per person to the equivalent of one 750ml bottle of wine or champagne/fizz or pre-mixed aperitifs or four bottles/cans of beer (500ml). Bottles of spirits or fortified wines are not allowed into the concert grounds.
No dogs, gazebos or barbecues are allowed in the concert grounds.
The use of photographic or audio visual equipment, computers,  communication, recording or other electronic devices must not disturb the performance or inconvenience any other person in the concert grounds.
AWCC Reserves the right, without refund, to refuse admission or eject a ticketholder in the event that their behaviour breaches these Terms & Conditions or is a health and safety risk.
The organiser AWCC does not accept responsibility for loss or damage to personal property or for any liability (to the fullest extent permitted by law).
The purchaser's email and/or telephone number will be retained for the purposes of future commercial communications unless advised otherwise.
AWCC Picnic at the Proms Concert Sunday 6th June
Covid Regulations and Venue Rules – Valid as of 1st February 2021
This Concert event has been granted event license permission based on the regulations and rules set out below which should be read together with the Ticket Sale T's & C's. In putting these dynamic and evolving measures in place we will be closely following all updates to the Government's guidelines and any applicable restrictions or adaptions in order to produce a COVID SECURE CONCERT EVENT.
We are currently working a long way ahead, and anticipate that our arrangements may need to adapt to changing circumstances as time progresses towards the concert date. Please note that this is a live and dynamic document that will be updated as changes happen. However final guidelines will be given to ticketholders on the day. In some cases, where it is deemed safe to do so, it may be possible to remove some of these measures. However if required by the Government or circumstances more may be need to be added.
Sunday  4th July is the reserve date for this concert, if it has to be postponed due either Government Coronavirus regulations or severe adverse weather.
If an email is registered by the ticket purchaser they will receive an updated version of these arrangements prior to the concert, which we should be shared with other members of their party. If you are not the person who booked your ticket you may wish to contact us directly for updates.
Overview
The capacity of the concert arena will be carefully limited to ensure that everyone can be seated at a safe distance. If the event goes ahead as advertised but Government restrictions limit the size of the audience then entrance will be determined based on tickets sold first. Ticket holders who, for this reason, are denied entrance to the event will be offered a refund.
Do not attend the concert if you have experienced any Covid-19 symptoms in the preceding 14 days, or have been diagnosed with Covid-19 in the preceding 14-days, or have had contact with a known or suspected case. The following are considered to be Covid-19 symptoms:
A high feverous temperature above 37.8C – a new, continuous cough – a loss of, or change to, your sense of taste or smell
The name and phone number of the lead booker may be made available to NHS Covid-19 Test and Trace where this is required of us. All persons may be required to provide Test and Trace contact details at the point of gaining access to the concert grounds. Not providing such details may cause access to be denied.
All ticketholders must bring a face covering with them and be prepared to wear it as required by the ground regulations on the day of the concert. Be prepared, if instructed, to remove any face covering if the police or staff require it to identify you .
All performers and on-site staff will also be following these measures.
If you are bringing children (defined as aged 16 and under) we ask you to take full responsibility for them whilst in the concert grounds and also ensure that they adhere to these regulations.
Regrettably, failure to comply with any of the regulations set out in this document may result in expulsion or refusal of admission.
At the Concert
Customer-facing staff will be wearing face coverings and regularly using hand sanitiser.
Please wear your face covering any time that you are not in your place, including on arrival/departure, and when walking to the toilets or refreshment points.
While queueing to enter please maintain a social distance from your fellow attendees. This will make the queues look longer! But please be assured that we will be moving people through the gates as swiftly as possible. Moving closer to the people in front of you will not make your entry time any quicker.
Hand sanitising stations will be provided throughout the site; please make regular use of these.
Before you get to the entrance, ensure that each member of your party has a valid ticket, which must be produced to gain entry, ready to present to the stewards at the gate. This will greatly increase efficiency and speed up your easy access to the concert.
Each ticket purchaser will be allocated a marked out area big enough to socially distance two persons. This area indicates where you must set up your picnic chairs at a safe distance from other ticketholder groups. Stewards will be in place to assist with this. Unfortunately this means that you won't be able to sit wherever you like. We will fill the concert arena from the front as people arrive and you will be assigned the next available appropriately sized seating area.
Dogs, barbecues and gazeboes or any other structure that may obstruct the view of other ticket holders are not allowed.
We ask that you remain in your designated seating area for the duration of the time you are in the concert grounds except when using the toilet facilities or visiting the refreshment points.
Please ensure that you continue to adhere to social distancing when queueing for the toilets or refreshments, and when moving to and from your seating area. Please observe any one-way systems that may be in place. Toilets will be spaced out in order to avoid crowding.
As you exit the concert we ask you to remain patient and keep your distance from fellow attendees.
Thank you – we're incredibly grateful to you for joining us in these efforts to ensure that everyone involved can enjoy the concert whilst also remaining safe!