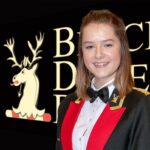 Band Member
Siobhan Bates
Originally from Swadlincote in Derbyshire, Siobhan's music making started at the age of three, when she produced her first sounds on a brass instrument. Her natural ability soon found her playing the French and Tenor Horns in local music centre bands at the tender age of five.
Her musical proficiency developed quickly and at age 10 she was granted a scholarship to the Birmingham Junior Conservatoire to study French Horn and Voice. Whilst there she became the Principal Horn in the Symphony and Wind Orchestras, as well as the Brass Ensemble.
Complementing her French Horn playing, Siobhan began playing Tenor Horn with the Gresley Colliery Band and at age 13 she became the LBBA Junior Solo Champion. She gained the Solo Horn position with Gresley at the age of 15, and also joined Youth Brass 2000 under the direction of Chris Jeans. At this point she made the decision to focus primarily on the Tenor Horn.
Her musical development continued with her joining Foresters Brass on Solo Horn and in 2015, after competing at the European Brass Band Championships in Freiburg with Youth Brass 2000, she became the Solo Horn with the Fairey Band.
Siobhan joined Black Dyke in June 2016 at the age of 16, having been invited by Principal Conductor Professor Nicholas Childs to take up the Solo Horn position.
Accolades and awards have been a constant part of Siobhan's musical progression. In May 2016 she was awarded the Best Soloist prize at the European Brass Band Championships in Lille having performed Sandy Smith's arrangement of "Capriccio Brilliante". At the age of 18 she was presented with the Best Soloist Award at the Yorkshire Area contest, during her first year with Black Dyke. In March 2019, Siobhan entered the BrassPass.TV Young Brass Award (previously Radio 2 Young Brass Award) and at 20 years old, was the inaugural award winner under its new ownership.
Siobhan's achievements also extend beyond the music world. in 2020 she graduated from the University of Huddersfield with a first class Honours Degree in Solo Performance and has now begun her studies towards a PGCE in Primary Education.
News
Read our latest news