Dr. Brett Baker DMA, MA, ARCM (Hons)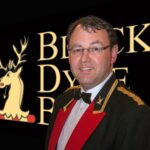 Band Member
Dr. Brett Baker
Position
Principal Trombone
Brett Baker is viewed, around the world, as a leading brass performer and educator. He is one of the most recorded brass soloists and is particularly passionate about encouraging composers to write pioneering new repertoire. Illustrating this, in 2018 he premiered Nigel Clarkes Outrageous Fortune for Trombone and in 2020 he premiered Oliver Waespi's "Scene Change" at the RNCM Festival of Brass.
Originally from the Forest of Dean, Gloucestershire, Brett studied at Salford University, simultaneously joining the Fairey Band under Major Peter Parkes in 1992, where he achieved many contest successes including an historic treble with the band in 1993/4. He was taught by Robert Morgan, Lyndon Baglin, Steve Walkley, Christopher Houlding, Kevin Price and Denis Wick.
It was back in 2000 that Brett was invited by Professor Nicholas Childs to join the Black Dyke Band, going on to achieve enviable concert and contest successes most recently the Open Brass Band Championships in 2014, the European Brass Band Championships in 2015 and Yorkshire Area in 2017, 2018 and 2020. Brett has also continued to play for other ensembles and Concert Bands. In 2020 Brett won the ITA Presidents Award for solo performance and services to the International Trombone Association.
As well as a performance schedule of 60 concerts a year, Brett enjoys presenting workshops, specialising in solo performance and band training and adjudicating around the world. He has played as a soloist at the International Trombone Festival in the USA and Trombonanza in Argentina, the American Trombone Workshop in Virginia, the Great American Brass Band Festival in Kentucky, as well as the Singapore, Philippine and Thai Low Brass Festivals. Brett was Programme Leader for Musical Arts, at the University of Salford from 2013-2019.
Complementing his illustrious playing career, have been his achievements as a conductor. He has many associations with bands in the North of England, including the University of Salford Brass and Wind Bands, the brass band at the Royal Northern College of Music, Yorkshire Youth Band, the North East Midlands Youth Brass Band. Thoresby Colliery, Carlton Main Frickley Colliery, Northop Silver and the Leyland Bands.  In 2014 he conducted Tongwynlais Temperance at the National Finals of Great Britain at the Royal Albert Hall in London.
Brett is Marketing Lead for Denis Wick & Alliance Products, an ambassador for Michael Rath Brass Instruments, an expert private teacher and Principal Trombone of the world-famous Black Dyke Band. He was Festival Director of the Singapore, Thailand and Philippine Low Brass Festivals from 2013-2017. He is a Past Chair and Past President of the British Trombone Society and after many years as Awards Chair, Brett is now Chair of the Research Advisory Council for the International Trombone Association. He increasingly works as a conductor and adjudicator in festivals and in band competitions.
News
Read our latest news