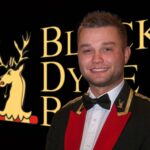 Dave has a deep-rooted passion for the brass band community and prides himself on competing and performing at the highest level. He especially enjoys working alongside others to enable them to realise their full potential as musicians.
At the age of 19 he held the position of Principal Cornet with the Harrogate Band . Two years later he had progressed into top level banding, joining the Carlton Main Frickley Colliery Band on front row. From there, he was able to develop his musical career and accepted a seat within the cornet section of the Black Dyke Band in November 2009.
Following his joining the band he has been a Triple Yorkshire Area Champion, Triple English National Champion, British Open Champion, National Champion of Great Britain and European Champion, twice. He has enjoyed many concerts and tours in the UK and abroad including touring Japan three times, playing the Pyramid stage at Glastonbury, performing at Wembley stadium, as well as travelling the world to New York, Switzerland, Norway, Austria, Luxembourg and France, amongst many other destinations.
He has been particularly honoured and privileged to have been awarded 'Bandsman of the Year' twice, and most recently been awarded 'Pondasher of the Year', recognising his support of the band.
For three years from 2012, he was musical director at the Tewit Youth Brass Band, Harrogate. He led this group of youngsters (aged 11 – 18) to the most successful period in their history – claiming the title of Whit Friday Saddleworth March Overall Youth Champions as well as Gold Award (3rd place) at the 2014 National Youth Championships of Great Britain. He ranks these as some of his proudest conducting moments.
Away from band life he currently works as a Business Support Advisor for Yorkshire Building Society, offering operational support and risk management oversight to branches and agencies in the UK – a job he really enjoys. He has two children, William and Holly, aged 1 and 3, who he says 'certainly keep myself and my wife Sarah on our toes!'
News
Read our latest news